Automatic Tape and Reel Machine with Tube Feeding HJC-007T
Function introduction:
1.Automatic feeding of products by feeding tube
2.The manipulator sucks the product and place to the carrier belt.
3.Tape-weaving module completes the sealing of tape
4.Touch screen for machine operation
5.The image detection system detects the direction, presence, pin and batch of the product.
Features :
Automatically fed by the feeding tube, sucked by nozzle and placed into carrier tape and sealed. Automatic Taping for Products SOP8\14\16.
According to customer's technological requirements, besides basic taping function, CCD camera  can be added.
The taping machine is suitable for a wide range of carrier tapes.
One machine is for one spec tube: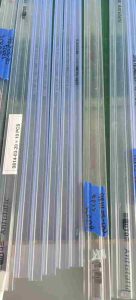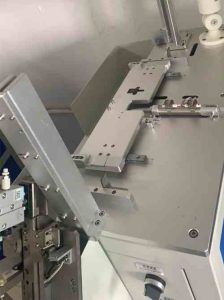 | | |
| --- | --- |
| Model | HJC-007T Auto Component Taping Machine |
| Feeding | Rubber discs and paper discs 13 inch, 15 inch, 22 inch, 27 inch |
| Tape width | 12 ≤ width ≤ 24mm, depth ≤ 30mm |
| Control system | Programmable Logic Controller+Touch Screen+servo motor |
| Temperature control | PID Temperature Control |
| Taping speed | 3K-15K UPH per hour (determined by product type) |
| Calculator | Internal pulse count |
| Package type | Suitable for hot and cold seals |
| Selective configuration | Image Detection System detects the direction, presence, pin and batch of the product |
| Weight | 180KG |
| Mchine Dimension | 1040*1020*1400(L*W*H) |
| Power supply | AC220V / 50Hz |
| Pressure | 0.40~0.6Mpa |
| | |
| Carrier tape empty alarm | available |
| Cover tape empty alarm | available |
| Empty pocket detection | available |
| Counter Qty/Reel | available(software auto count) |
| Component Orientation alarm | Non standard configuration/Optional sensor and image detection system |
| Carrier to cover weld strength check | Need "Peel force tester" for check |
| Setup time for reel changeover | 2~4minutes |
| Setup time for model changeover with different tape width | 2~4minutes |
| Machine supply lead time | around 30days (customized per component size and customer requirement) |
Options:
Can be tube input and tube output, with CCD inspection and sorting;
Can be tube input and tape output, with laser marking or dotting function;
Re:Automatic Tape and Reel Machine with Tube Feeding HJC-007T