Automatic SMD Tape and Reel Machine with Rotary Tower Assembly HJC-020S
Features:
1. Vibratory bowl feeding (one component size, one feeder);
2. 12 stations of rotary tower design, with correction, defective removal, collection function(one component size, one set of rotary tower)
3. Before sealing, CCD inspection station can check direction/ character/ polarity etc.(customized solution)
4. Hot-sealed self-adhesive upper cover tape sharing different sizes, carrier tape reel sharing different sizes;
Function introduction:
Introduction: This equipment is a tape and reel device for bulk semiconductors. The process is to feed bulk component by vibration bowl, pick component by vacuum manipulator to the carrier tape. This machine can handle components with cavity depth≦5mm and width ≦24mm.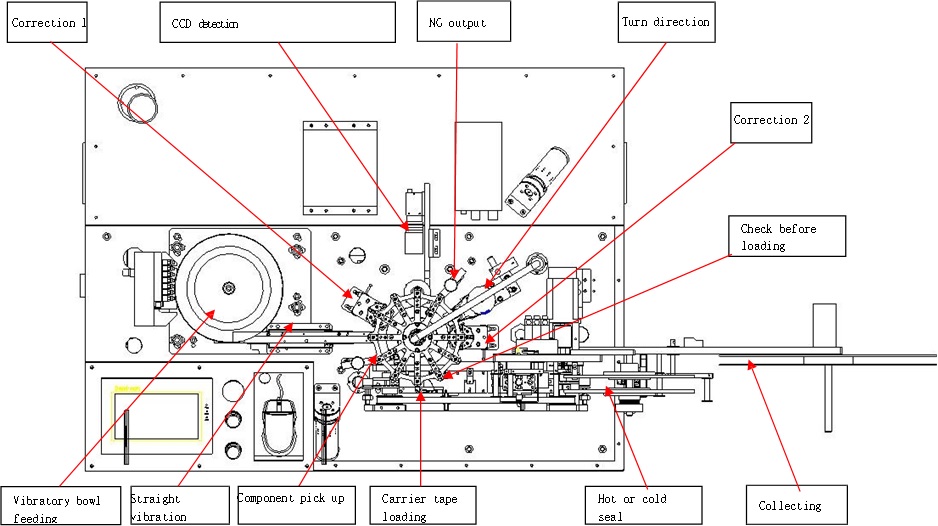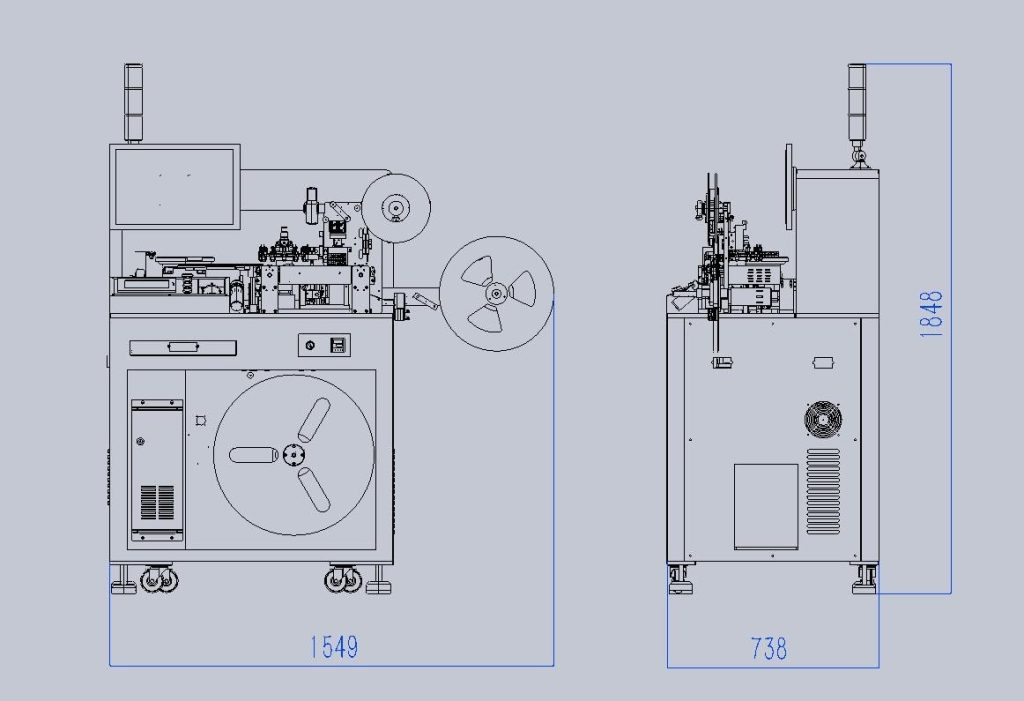 Item

Parameters

Dimension

L*W*H: 1500mm * 740mm * 1600mm

Weight

200kg

Power system

Single-phase AC220V,50HZ,

Air source

5.0kg/cm2≦ air pressure ≦9.0kg/cm2

Rated power

4.6KW

Feeding system

Carrier wheels and supporting upper covers for EIA-481A standards

Tape specifications

Width ≦24mm  depth   ≦5mm

Temperature control system

Single-head adjustable PID thermostat with temperature control at 120℃ to 200℃

Speed

5000-15000pcs/h,   decided by component specifications

Counting function

The internal pulse count of the system

Sealing

Self-adhesive / hot pressure

Reel spec

13 inch,15 inch,22 inch,27 inch plastic reel or paper reel

The working environment

Dust-free workroom,0℃≦ temperature ≦50,

35%≦humidity ≦85% no condensation
Options:
Rotary tower stations can be 12 or less;
2D camera can check component from upside and downside;
Re:Automatic SMD Tape and Reel Machine with Rotary Tower Assembly HJC-020S